Paul Dolloff . 1950-2008
~~~~~~~~~~~~~~~~~~~~
Paul Dolloff was a self-taught sculptor working in recycled steel parts from the junkyard. Inspired by regional artists as well as Alexander Calder's whimsical sculpture, Paul delighted in creating something out of nothing. Old attic vents become eyes, motorcycle gas tanks turned into the bodies of ants, antenna and legs were spring-mounted, and continue to wave in the breeze.

Paul's endearing critters emerged from the junk piles every day, and still line the driveway of Running Fox Ranch on Hwy 94 between Sapello and Rociada. Visitors are welcome to come and view the sculpture garden in the lovely patio of the gallery at Marigold Arts in Santa Fe.

Visit www.marigoldarts.com to learn a little about Paul and view photos of his lively artwork.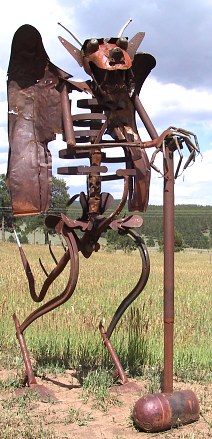 Chupacabra
Sculpture by Paul Dolloff
---
MycoWest.net/biobits/dolloff.htm
dmw . 2o15-11-18 (~83n)