A Tribute to Louisa
We are sorry to inform you of the passing of our dear friend and artist, Louisa McElwain.
Louisa McElwain, 1953 - 2013, was a renowned New Mexico painter famous not only for her thickly impasted landscape paintings of the Southwest, but also her larger than life personality and adventurous, joyful soul. She was a passionate, generous, loving friend and mother.

Louisa lived fully with an extraordinary view and zest for life, which was unrivaled and contagious. Internationally recognized as a master painter, Louisa was a highly creative, intellectual mind, fully immersed in her spirituality, a great humanitarian, a self-sufficient gardener and ranch woman with immense compassion for her animals and the land. She was always strong on her beliefs and whether they were compatible with yours or not, they were true and honest for Louisa. When Louisa entered a room, somehow a crowd would follow. Although frequently asked if she instigated the entourage as a joke, it was always clear that it came from her optimistic energy and magnetism. Her presence was like the summer storms she painted with such understanding and familiarity - always a welcome and refreshing surprise.

She accurately dubbed herself an "extreme painter". Her bliss and fulfillment came to her when she was painting. She frequently shared the stories of the power of nature pulsating through her body when she was one with her environment, and her astonishment of the paintings that resulted. Louisa left a legend. Although she spent much time alone, she reveled in the company of friends, old and new. Her hunger for new experiences, knowledge, sharing herself and truly knowing others was insatiable. Louisa was an artist that lived by her convictions and continually searched for truth. Our hope is that she is in a more exciting and extreme place with a clear view of our vast and unending appreciation of her contribution to our lives.

We miss her greatly and are extremely sorrowful that she left us so soon. Her marks are not only found on her canvases, but on the hearts of each of us that knew her.
---
From the Santa Fe New Mexican: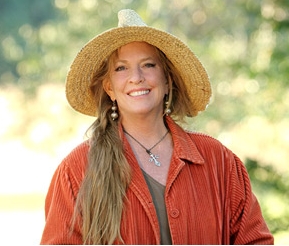 Louisa Redfield McElwain
May 8, 1953-February 26, 2013
Born Nashua New Hampshire, daughter of late Katchen Redfield McElwain and William Howe McElwain of Westin Massachussettes. Survived by daughters Maizie Charlotte Houghton and Tasha Tudor Houghton. Sister, Amy Tudor McElwain McCoubrey. Brother, Donald Merriam McElwain. Former husband Peter Houghton and many aunts, uncles, nieces, nephews, friends, family and other loved ones.
Louisa was a passionate woman, wonderful devoted mother, renowned artist, farmer, and force of nature whose legacy is larger than life.
Images courtesy of EVOKE Contemporary
---
MycoWest.net/biobits/mcelwain.htm
dmw . 2o13-o3-15