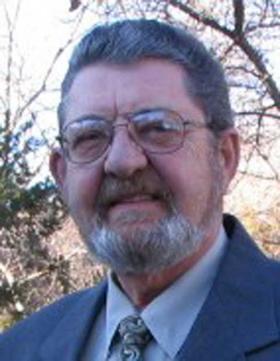 25 July 2o13: Susan Stravato informed us that her husband Dean passed away at their home in Amarillo. NMMS Foray attendees will remember the Stravatos as regular participants during the last several years. Dean's health decline prevented them from attending last year.

The paragraphs below are excerpted from Dean's Obituary published in the Amarillo Globe-News.
---
Armand Gerald "Dean" Stravato Jr.: 1937-2013
---
Armand Gerald "Dean" Stravato Jr., 75, of Lake Tanglewood died Tuesday, July 23rd at his home.
He was born to the late Armand Gerald Stravato and Enes Caligaris on August 13, 1937 in Lynn, Massachusetts. He graduated from Lynn Classical High School in 1955 and Boston University in 1958 with a degree in Aeronautical Engineering from the College of Engineering. He married his surviving wife Susan Muntz on September 11, 1999. Other survivors include his sister Lorraine Testa Coyle and her husband Tom of Marstons Mills, Massachusetts; nephew Dean Testa of Denver; two children: Anna Ashby and husband Michael of Barwell, England, and son Michael Stravato of Houston; twin granddaughters Anna and Elena Stravato and their mother Claudia Kolker of Houston; stepson Justin Drew Houghton of Oklahoma City; and stepdaughter Shanon Kay Cox of Austin.
Dean was a Veteran and served in the Army from 1958 to 1961. He was stationed at Rankin Army Airfield, Camp Zama, Japan from January 1959 to June 1961. He was associated for 47 years with the aircraft industry as a helicopter pilot, fixed-wing pilot, advisor, manager, director, and consultant. He worked for Bell Helicopter-Textron for the years 1961 to 2001 when he retired. His assignments included Field Service Representative in the Republic of Vietnam; Field Representative in St. Louis, Missouri; Contracts/Program Manager (Military) at the Amarillo Facility; Operations Planning and Control (Amarillo); and Director of Bell Technical Services, Hurst Facility. This directorship allowed him to travel the world and in one year become a member of American Airlines Million Miler Club. After retiring, he established and operated AGS Enterprises, an aviation consulting firm and also worked as a representative of Wes Clark Aircraft.
Through the years, Dean participated in many organizations and clubs including American Helicopter Society, Army Aviation Association of America, Amarillo Executive Club, Amarillo Symphony, New Mexico Mycological Society, Downtown Athletic Club, Lake Tanglewood Golf Association, Amarillo Gun Club, Amarillo YMCA (Board President 1982), and Southwest Chapter AMBUCS.
He served two three-year terms as a Board Member and Vice President of the Lake Tanglewood Corporation board. He thoroughly enjoyed hunting, fishing, scuba diving, boating on the Lake, cooking his special Italian recipes for friends and family, and as photographer for the AMBUCS numerous activities, including their Derby Day fundraiser and the MDA children's cookout and fishing event.
Memorial services will be at 2:00 p.m., Friday, July 26, 2013, in St. Andrew's Episcopal Church with the Rev. Dr. Robert F. Pace, associate rector, officiating. Arrangements by Boxwell Brothers Funeral Directors, 2800 Paramount Blvd.
In lieu of flowers, Dean's special wish would be to make contributions to Southwest Chapter of American Business Clubs (AMBUCS) Amtryke project, PO Box 2827, Amarillo, TX 79105.
Links:
AMBUCS Amtryke Project
---
MycoWest.net/biobits/stravato.htm
dmw . 2o15-11-o5