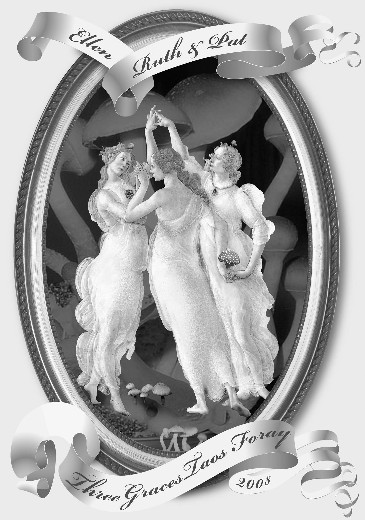 New Mexico Mycological Society 2008 Three Graces Foray
14-17 August, 2008
Mycologist: Rob Reinsvold, University of Northern Colorado
Location: Taos, NM
Foray Chair:
Libba Campbell
Foray Headquarters were at the Best Western Kachina Lodge, 413 Paseo Del Pueblo Norte
Lodging Details:
Double queen bed ($79) and king bed ($89) rooms were held open for reservations (under NM Mycological Society) until 1 August.
As of 28 Jan, there were also 4 deluxe kings available with a sitting area, which were blocked off from August 13th to the 18th. Foray Chair Libba Campbell encouraged folks visiting from lower altitudes to arrive early in order to acclimate to New Mexico elevations. (Taos sits at 7,000 feet, and Foray field trips visited areas above 10,000 ft.)
Reservations phone was 1-800-522-4462 and contact person was Cheryl Webster, Sales Manager.
The Three Graces
Foray Chair Libba Campbell named this event the "Three Graces" Foray in honor of 3 long-time NMMS members, Pat Brannen, Ruth Bronson, and Ellen Reed, in recognition of their many contributions to NMMS.
Libba observed, "Collectively, they have been president nine times, foray chair twelve times, newsletter editor six times and secretary four times, just to mention some of the things they've given to our organization over the years."
NMMS History Three Graces T-Shirts:
Shirts were 100% cotton pre-shrunk, light blue with dark blue print, and came in adult men's sizes. Pre-Order (before July 21) price for S-XL was $10. Limited sizes were available at the foray for $15.
XXL ($12) and XXXL ($13) were available only by pre-order.
We added T-Shirts to the Registration Form
on May 10. Libba Campbell requested that those who had already registered for the Foray (using the older form) phone or email her to order shirts.
---
MycoWest.net/forays/fnm~8
dmw . 2o17-o2-25 .

~889