New Mexico Mycological Society Annual Foray
Dates: 20-23+ August, 2009
Location: Taos, NM
Mycologists:
Vera Evenson - Curator of Denver Botanic Gardens' Herbarium of Fungi. Author of Mushrooms of Colorado and the Southern Rocky Mountains.
Clark Ovrebo - Professor of Biology, University of Central Oklahoma
Walt Sundberg - Emeritus Professor at Southern Illinois University. Author. Recipient of NAMA's Award for Contributions to Amateur Mycology.
Myxomycologist:
Uno Eliasson . Göteborg University, Sweden
Foray Headquarters will be at the Best Western Kachina Lodge, 413 Paseo Del Pueblo Norte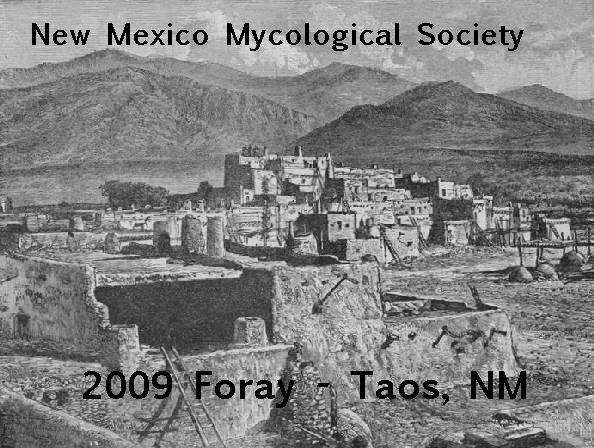 Foray Schedule
Foray Check-in will be on Thursday, Aug 20, from 5-6pm and 7:00-8:00 pm.
Participants are responsible for their own meals on Thursday.
Additional Details will be available as we get closer to the Foray date.
Lodging Details:
Rooms with single king or double queen beds for $79/night are being held open for reservations (under NM Mycological Society) until 7 August.
See page 2 of the Registration Form for more details.
Foray Chair Libba Campbell encourages folks visiting from lower altitudes to arrive early in order to acclimate to New Mexico elevations. (Taos sits at 7,000 feet, and Foray field trips can easily get above 10,000 ft.)
For reservations phone 1-800-522-4462. If any difficulty, ask for Cheryl Webster, Sales Manager.
Alternative Lodging:
Some of our participants have chosen to stay instead at the Abominable SnowMansion, which offers more rustic lodging, including campsites. It is located in Arroyo Seco, 8.5 miles north of our Foray Headquarters at the Kachina, and about a 20 minute drive. T-Shirts
Sizes S-xxxL / $15 ea.
Click Here for description.
Libba Campbell requests that those who have already registered for the Foray (using the older form) phone or email her to order shirts.
---
Field Trip Maps (Big PDF files)
Map 1 . East (& South) of Taos - 1.2 mb
Map 2 . North of Taos - 3 mb
Map 3 . South (& East) of Taos - 2 mb
Map 4 . Arroyo Seco to Taos Ski Area - 900 kb
Map 5 . Taos to Hopewell Lake (This map is ugly, yet relatively useless.) - 158 kb
---
Read the following Mycorizon Foray Reports for more details.
---
MycoWest.net/forays/fnm~9
dmw . 2o19-o8-2o